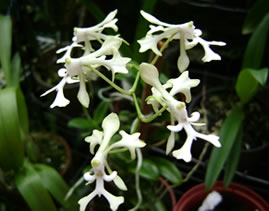 The Orchid Society of Mauritius was founded in 1980 by a small group of local orchid enthusiasts. Over the years the membership of the Society has increased significantly and now stands at more than one hundred regular members. The main goal of the Society, as stipulated in its Articles, is to promote orchid culture.
Members meet on a monthly basis around a mini orchid show. Talks on various aspects of orchid growing and sharing of personal experience are common features at these meetings.
Each year in October, the Society holds a major public orchid exhibition. Visitors have the opportunity to, not only admire beautiful flowers, but may also acquire plants and learn how to grow them.
The Orchid Society of Mauritius is affiliated to the American Orchid Society since 1983 and benefits from its generous educational support.
Since its creation, the Orchid Society has had thirteen presidents and has nominated twelve honorary members for their distinguished contributions